Spring 2020 Bus Trips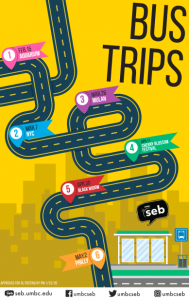 All bus trip tickets can be purchased at tickets.umbc.edu!
FAQ
Where do I buy my bus trip ticket?
You can only purchase tickets online at tickets.umbc.edu.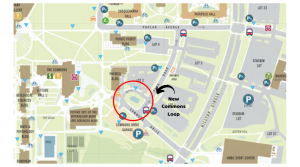 Where & when does the bus pick up on campus?
The bus will always pick up at or near Commons Loop. Arrive 15 minutes before the scheduled bus departure. For more specific info on times and locations, stay up to date with the event page on Facebook.
When will the bus get back to campus?
Stay up to date with event times and locations by following the event page on Facebook.
Is there a refund policy?
Please email Kaitlin Smith -ksmith13@umbc.edu 72 hours before the trip. For more info, please contact by phone at 410-455-2867.
Can I buy a ticket for a non-UMBC student?
Sometimes. In general, Tickets are sold exclusively to UMBC students as the UMBC Student Events Board is sponsored by the Student Activity Fee.
Will the bus wait for me if I arrive late?
No. Please be on time. (seb) is not held responsible for a ticket holder missing the bus, no refunds will be given to one missing the bus.  
Can I leave early/not return on the UMBC chartered bus?
Yes, if you let the (seb) staff know when you are checking in. If you intend to leave early, you must find your own transportation. The UMBC chartered bus will leave at the scheduled time.
Who do I contact on the day of the trip?
The best way to contact (seb) on the date of the trip is either through messaging our social media accounts or contacting our google voice phone number – (317) 732-8747‬
Still have questions?
Check out each event on Facebook for more info or call us at 410-455-3618!